I don't believe society is perfect the way it is, I'm just a small-c conservative who's cautious of changing things. We've never tried a complex globalized urban Information Age society with communist/libertarian/reactionary policies, and if you accidentally bring down civilization an "oops" isn't going to cut it. In real life I'm pretty risk-averse and that shows politically. And when I find sweeping revolutionary changes I would be up for, by bad luck they're all ones well outside the mainstream of debate, which focuses disproportionately on stupid tribal issues anyway.
So I am a terrible political activist. But I have spent the last thirteen years constructing a utopian society in my basement.
Coat of arms of the Shining Garden of Kai-Raikoth
I've been reluctant to bring it up here, because it is not relevant to sober politics, parts of it are amateurish and unfinished, and it makes the worst extremist look sane and grounded in reality. And I was afraid it wouldn't really make sense without a little bit of the background of the world it takes place in.
But I've already outed myself as a conworlder. And I'm bored. And maybe it will shut some people up about how boring my politics are. So…
In the north of the planet Micras lies the island of Raikoth, about the latitude of Iceland and the size of Great Britain. In the present day (the 51st century ASC) it has a population of about 8 million – similar to that of Honduras or Israel.
Map of Raikoth. Click to expand thumbnail.
Raikoth is an ancient civilization, but during the 11th century ASC they ceded their sovereignty to the Holy Empire of Sxiro, a sprawling feudal conglomeration occupying nearly the entirety of the continent to their south. In exchange, the God-Emperor of Sxiro granted them extremely favorable terms including almost complete self-government.
The Raikolin are not a people prone to self-doubt. Their constitution – which they adopted only when the God-Emperor absolutely insisted all lands under his dominion present him with a charter of some sort – reads simply:
In all situations, the government of Raikoth will take the normatively correct action.
For most of the 5th millennium ASC, their laws insisted that the Platonic Ideal of the Good was both head of state and head of government; this was relaxed in 4682 to allow the Archpriest of Joy to serve as head of government, again at the insistence of a confused and annoyed Sxiran God-Emperor.
The Raikolin themselves are happy to explain the secrets of what they consider their success, though no other land on Micras has quite taken them up on the offer. They attribute it to three principles which they have pursued to their logical conclusion: Perfect Language, Perfect Government, Perfect Population.
Kadhamic: A Perfect Language
Early in their history, the Raikothin state was plagued by politics. Everyone had a different opinion for which way the state should go, everyone thought everyone else's opinions were wrong, and debate was interminable, hostile, and unable to make any inroads into the problem.
Some began to wonder if the problem was the inherent slipperiness of language. Poor language encoded false assumptions about the world, allowing conflation of factual statements, value statements, and meaningless feel-good cliches. It led to confusing categories, framing effects, and a bad habit of reifying ad hoc concepts.
Luckily for Raikoth, an unusually high percent of its population were logician-monks (don't ask) in a good position to begin working on an alternative. Starting with an outlook akin to logical positivism, they invented a language whose grammar was identical to philosophical rigor and in which every concept had to be expressed precisely. Cheap shots, ad hominem attacks, rhetorical tricks, appeals to emotion – all were painstakingly prohibited by careful choice of vocabulary and syntax, and ambijectivity is carefully collapsed into its component pieces.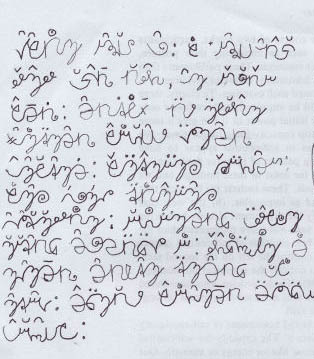 A sample of Kadhamic writing from the Codex Hamiltonensis
The thorniest problem was moral speech: what should "good" mean in a perfect language? Here the logician-monks spent millennia refining a utilitarian superstructure until it described exactly how to aggregate preferences to create a utility function for the entire society. The resulting book, the Risurion-Silk, was declared to be literally an incarnation of God, who was, after all, only another word for the concept of maximal goodness. "Good" was declared to mean "increasing the function described in the Risurion-Silk" or alternately "increasing the degree to which the Universe instantiates God".
Thus was born Kadhamic, the perfect language. Having developed it, the government merely banned all discussion of politics in any language other than Kadhamic. This had two salutary effects. First, it prevented anyone who lacked the intelligence to learn Kadhamic from participating in political life. Second, it ended the worst sorts of political disagreement almost overnight, as constructing specious arguments for false positions became difficult or impossible.
The Shining Garden: A Perfect Government
Nevertheless, substantive political disagreement – genuine debate about facts or values – still remained. Before the Fallow Time in the 35th century ASC this was mostly addressed by a parliament of representatives from the nine cities, but during the leadership of High [untranslatable] Nithi Kirenion and afterwards, a more elegant system was put in place: the rule of the the Angels.
An Angel is a creature that bridges the gap between God and Man. The Angels of Tala, the capital of Raikoth, are massive computer systems that allow humans to make calculations about the value of God as instantiated in the Risurion-Silk.
City map of Tala as it was eight hundred years ago, before the Shining Garden era. Click to expand thumbnail.
The Angel of Preference takes census and survey data from every citizen of Raikoth, runs it through the series of utilitarian superstructure functions in the Risurion-Silk, and spits out a utility function. Its calculations bear the same resemblance to the QALYs and DALYs of today as a supercomputer does to an abacus. What it ends up with are a series of preference weights for possible world-states and for various subcomponents of those world-states. It knows the marginal value of saving three people from poverty and how that compares to the marginal value of decreasing water pollution 6% in the Great Gleaming Fjord, or of one new baby being born in Uolrhaphen.
The Angel of Evidence is a system of linked "oracles" – what we would call prediction markets – heavily subsidized by the government and played not only by thousands of Raikolin but by the great financial conglomerates of Sxiro and even further afield. Fed sufficient time, money, and publicity, it can calculate the likely effects of any policy with an accuracy even the Priests of Truth cannot match. When Endi Arusion wanted to declare sanctions on Lirikoth, he asked the Angel exactly how long their rebellion would last; according to legend, it got the length of the centuries-long conflict correct to the day.
The Angel of Salience accepts suggestions from anyone on Raikoth, whether they be a destitute fisherman or a High Priest of Joy. These suggestions can be any form of policy change, whether that be tax relief, new land use regulations, or the invasion of a foreign power. The thousands of suggestions it receives each day get crowdsourced, with average citizens and experts giving them upvotes or downvotes whose weight is proportional to those users' past success rates. Eventually, the most creative or well-thought-out proposals rise to the top and become salient for further investigation.
The Archangel, located in a vast temple in the Gardens of the Dead, combines input from all three Angels to render government decisions. It takes policy proposals from the Angel of Salience, uses the Angel of Evidence to estimate their likely effects, and finally runs those effects through the Angel of Preference to determine whether they would raise or lower the utility function represented therein and so bring the world closer to or further from the Divine. The set of noncontradictory policies that most satisfies the Angel of Preference becomes the law of Raikoth.
The Meta-Analytical Oracle, home to the Angel of Evidence and parts of the Archangel (real world source)
In her landmark work on governments, Zelde Kalirion once called Raikoth a "totalitarian anarchy", and with good reason. The Angels' decrees are entirely impersonal. It might demand a city uproot itself and move elsewhere, or strike down a doctrine in the national religion, or even tell everyone in the country to render a certain number of opals to a certain engineering company in exchange for their constructing a bridge.
Yet there is no single entity called "the government" which executes these requests. There are the Rhavakal, a self-contained chivalric military order with an obsessive focus on martial arts – and occasionally the Angels order them to invade things or arrest people. There are the Priesthoods of Truth, Beauty, and Joy, three very wealthy and powerful religious groups – and occasionally the Angels order them to take care of some errand. There are a host of companies whom the Angels sometimes order to perform one task or another. And there are normal everyday citizens, whom the Angels often ask for financial support for one of their plans or another. But all of these groups alike are simply tools whom the Angels make use of. And so – with the possible exception of the Priests of Joy, whose tasks include maintaining the Angels' physical forms and tweaking their algorithms – none of them consider themselves (or are considered by others) part of a body called "the government".
The Galisyin – A Perfect Populace
"Galisyin" means "the gardened ones", and it is a name the Raikolin give themselves. They believe that even a perfect government cannot help bad people, and even a flawed government cannot keep down good ones. A disaster eight hundred years ago led to the ideology of istilve iab istisemial priktino – "fractal perfection of which every part is itself perfect", in which the innate virtues of the Raikothin people must be robust enough to survive even a total collapse of their society.
The gardening begins with birth and reproduction. All men get RISUG as part of what we might call their high school health class; although they may reverse the process at any time, in practice no one does so until they want to have a child, and the procedure can be repeated free of cost at any time. This effectively prevents unplanned pregnancies and unwanted children
The punishment for most serious crimes is exile – either to the many colonies like Kymrikoth, Kalirphanam, and Psentikoth, or to monasteries in the mountains (which serve about the same role prisons do in our society except that instead of hanging out with hardened criminals they mostly hang out with monks and do monastic labor, meditation, and study). In either case, they are effectively removed from the breeding population for long periods, sometimes forever.
Finally, as a country that passed the demographic transition a few millennia ago, the natural fertility rate is well below replacement. The Angels keep the population at their desired level by paying people to have and raise children, and the highest price is given for people who are willing to use gametes selected by the Priests of Truth as unusually likely to create good people (where "good" is as always defined as "tending to increase the function described in the Risurion-silk" but usually involves intelligence, compassion, sanity, health, and creativity).
Although these three measures do relatively little over the space of a single generation, over hundreds of years they have transformed the populace to one that scores well above the Sxiran baseline on nearly every desirable trait.
Headquarters of the Priests of Truth
In addition the Galisyin ideal includes euthenics – bettering people by improving their environment. My old Biodeterminists' Guide to Parenting is an very Raikothin way of looking at the world and its suggestions (refined and tested by centuries of constant study) are law, sometimes holy law. Some euthenic interventions are more proactive: for example, there is an exactly optimal amount of lithium in the water supply. There's even occasional eradication campaigns for toxoplasma (at least in men), although the Arctic location itself does most of the hard work in decreasing parasite load.
Along with the biological work comes the education, which has almost nothing to do with what our own society calls by that name. There is little attempt to teach history, science, music, or grammar – it is assumed that a correctly biodetermined population with access to free libraries will pick all of that up by themselves. Instead school is entirely about instilling good habits of mind that will make people virtuous and prosocial citizens.
The curriculum is heavy on meditation; students spend five to ten years meditating for an hour a day under the guidance of Priests of Beauty who are expert in the discipline. The goal is to achieve near-perfect self-control, low anxiety, compassion for others, and lasting happiness (if any of the studies showing that meditation improves academic performance prove true, that's just icing on the cake).
A second class that wouldn't be recognizable in real-world schools is Experimental Theology, aka nationwide school-sponsored drug use. The idea here is that years of research with chemicals like LSD and psilocybin have put their ability to permanently positively alter personality on a sound scientific basis, and as children's minds develop they are inducted into different levels of mystical experiences with these drugs in ways that give them more love, energy, and feelings of community.
The third and most important class is rationality. This class is the difference between dystopia and utopia; it intends to teach everyone the rationale behind their society and give them the tools to engage in politics or choose not to do so. First is instruction in the perfect philosophical language Kadhamic. Then is instruction in a sort of turbo-charged form of critical thinking only possible in Kadhamic (but which I'd like to think the Less Wrong Sequences are a close vernacular approximation to). Then come enough math and science to understand something sort of analogous to our Rational Choice Theory, Game Theory, Evolutionary Psychology, Decision Theory, et cetera – things necessary to understand morality and government design. Finally comes an investigation into morality, the justifications behind the Risurion-silk, and the heretical logics which compete with it.
At the end of these lessons comes a sort of rumspringa, where young men and women leave the Shining Garden and tour the rest of Sxiro and the world, observing its freest and richest regions as well as its poorest and most desperate. They are then offered a choice between returning to Raikoth, living in the "colonies" – a series of outlying lands inhabited mostly by Raikolin who reject the heavily ordered life of the Shining Garden – or moving to mainland Sxiro. Those who choose the last option are given free remedial training in the Sxiran language and help integrating into local culture – but most find it bizarre, off-putting, and barbaric, and choose to stay in Raikoth after all.
During adult life, Raikothin continue their self-cultivation with the help of the Priests of Beauty, who are sort of combination clerics / counselors / psychiatrists. They have more the friendly attitude of a pastor than the saccharine attitude of a therapist or the clinical attitude of a doctor, but if necessary they also have the expertise to prescribe a mind-boggling variety of drugs and supplements, many completely unknown or ridiculously illegal here on Earth. They differ from more typical therapists in having complete confidentiality; they are forbidden from reporting their flock to the authorities or to mental institutions for any reason (other organizations do have those powers, but don't interface with the Priests of Beauty). This tends to inspire a relationship of trust, and the Priests of Truth watch them to make sure they deserve it.
Those who desire a level of perfection beyond that of normal Galisyin head to the monasteries, about a dozen or so isolated communities the size of small cities in the high mountains. There they grow their own food, meditate, study, and try to live more or less in harmony with nature. Several monasteries are under oath to take in anyone who wants to join them, setting a valuable floor to the level of misery and poverty anyone has to put up with.
This is the first time I've shown Raikoth to anyone outside the tiny community of conworlders, so if you have any questions ask and I'll try to expand upon them.