As before, feel free to treat this as an open thread for all coronavirus-related issues. Everything here is speculative and not intended as medical advice.
How many real cases?
As of today, the US has almost 10,000 official cases. How many real cases per official case?
One epidemiologist says 8x. In this US News article, scientists estimate 9000 true cases back when the official count was 600, suggesting 15x, and BBC estimates 10,000 real cases in the UK to 500 official ones, suggesting 20x. A study in Science (article, paper) estimates 86% are undetected, for about 7x. So it seems like most people are converging around 5 – 20.
Probably this number is different in every country, depending on their test rates. You're probably all already following the map of cases per country, but you can supplement with this map of how many tests each country is running per million people (h/t curryeater259 from the subreddit)
What about the evidence from famous people? If only 100,000 Americans are infected, it's pretty weird that it would hit both Tom Hanks and Idris Elba (also, Tormund from Game of Thrones). The Atlantic makes this case more formally. Given that Iran's vice-president is affected, what are the chances that only 1/12,000 of Iranians had the virus? Some people calculated it out and found that hundreds of thousands of Iranians must be affected for the prevalence among politicians to make sense, suggesting ratios of 100x or even 1000x.
I'm skeptical. Famous people travel a lot and shake a lot of hands. And they mostly interact with other famous people, forming their own little "compartment" where the epidemic can be worse than in other societies. I think it's more likely that Hollywood actors and Iranian politicians have 100x higher risk than their host population, than that epidemiologists are wrong about the size of the epidemic by orders of magnitude.
We still don't have an endgame
A brief flurry of interest last week as the UK seemed to be trying a different strategy from everyone else – isolating their oldest and most vulnerable citizens, but letting everyone else get the virus to build herd immunity. They've since backtracked after people did the math and found that an epidemic even among healthy young people only would overwhelm their medical system. Here's another critique of herd immunity, appropriately enough on UnHerd.com.
But the UK's original point – that without herd immunity, all we can do is continue the lockdown until something happens – remains sound and worrying. Everyone is hoping for a quick vaccine or antiviral, but this is a field where "quick" sometimes means months or years instead of decades. If we don't get a deus ex machina, eventually somebody will need to implement some long-term strategy.
Last week I predicted that this might look like titrating quarantine levels – locking everything down, then trying to unlock it just enough to use available medical capacity, then locking things down more again if it looked like the number of cases was starting to get out of hand. This would eventually develop herd immunity without overwhelming the medical system. A paper yesterday out of Imperial College London (discussed here) said the same thing, arguing for alternating periods of higher and lower quarantine levels based on how the medical system was doing:
The orange line is projected ICU cases. The blue line is government-mandated social distancing levels. Relax social distancing levels, then after ICU cases cross some threshold, reinstate them again. That way at least we can have a few weeks of normal economic activity and seeing friends in between each lockdown. Control systems are the solution to everything!
Problem: it would take forever to develop herd immunity under this system, and we might just have to keep turning quarantine on and off for a year or two until a vaccine gets developed. Does anyone have any better ideas?
The closest thing I've heard is "what China and South Korea are doing", which seems to be having so many tests available, and such good health services, that it's easy to detect cases, track down their contacts, and manage the epidemic even while life goes on mostly as usual. So maybe the end date isn't "have a vaccine available", it's "have millions of test kits available", which I think looks more like a few months than like years and years.
Flatten the curve
Is flattening the curve just another name for the "have a control system to titrate lockdown levels so that only the right number of people get it at a time" strategy? Maybe everyone just assumes that we're never going to get the cases down to too low a level, so we should try to get them as low as possible and maybe hit the right amount? And overshooting and reducing it so far that you're not using the medical capacity you have, and wasting an opportunity to have a normal life and/or build herd immunity, is just really unlikely without China-level resources?
An article called Flattening The Curve Is A Deadly Delusion has been going around this part of the Internet, saying that there's basically no way to match a curve of any flatness with our current hospital capacity. Nostalgebraist says the math is wrong, mostly because it uses a normal distribution when it should use an exponential one. But I've seen some other people making this basic point now, so it could just a be a question of how bad things get, rather than whether they'll be bad at all.
Do you just have the flu?
Courtesy of Popular Science: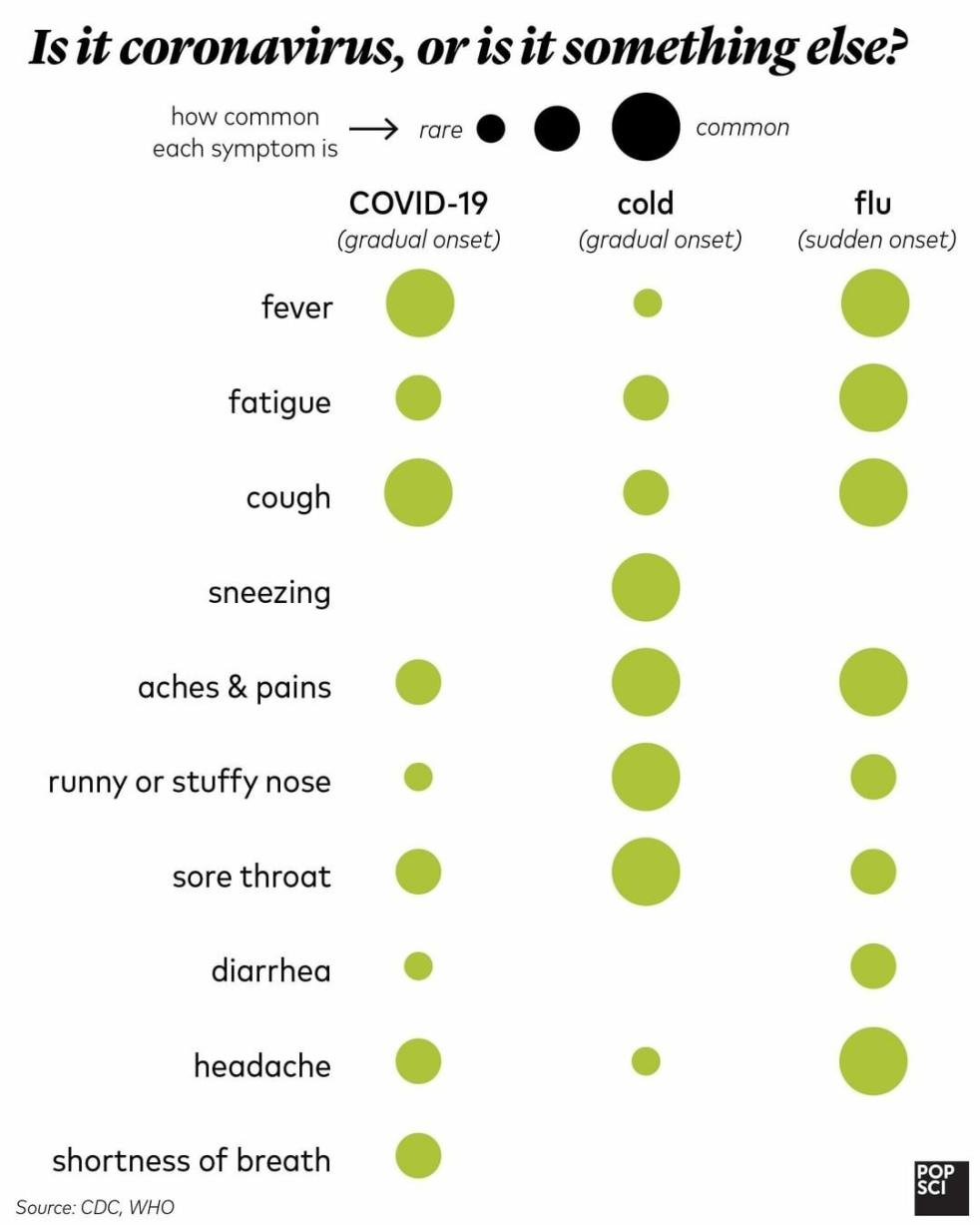 Don't use aspirin
Doctors in Germany and France are saying that a suspicious number of young coronavirus patients who end up in the ICU took aspirin or other anti-inflammatory drugs (Advil, Motrin, Aleve, ibuprofen, diclofenac, etc, yes I know several of these are the same drug, I'm trying to inform readers) before getting worse. There's a plausible biological mechanism; anti-inflammatories dial down the immune system. BMJ agrees: Ibuprofen should not be used for managing symptoms, say doctors and scientists. Tylenol, acetaminophen, or paracetamol (YES, I KNOW) is still okay, so use that for coronavirus-induced fever.
[EDIT: WHO is skeptical, but French and German doctors stick to their guns. It seems like there's a longstanding debate on this with the French and German medical establishment thinking it's bad for lots of diseases, and most of the rest of the world not believing them. I have no strong beliefs about whether France/Germany or everyone else is better, but switching from Motrin to Tylenol in this case seems pretty low cost]
Ventilation
An anonymous reader writes:
Idea: for collective transport like buses and trains around the world, if they are still operating, then keep the windows open.

Actionable proposal: quickly evaluate whether this makes sense, then if it does organize somebody to communicate with relevant parts of governments and transport authorities in different countries and cities and urge them to implement, maybe first get an official looking letter that some prestigious sounding expert has signed to the effect that this seems like a good idea.

(Disclaimer: I haven't done any due diligence or critical assessment of this idea, just firing from the hip. I heard of some study that showed somebody caught the virus on a bus from an infection person who left the bus 30 mins earlier and the two had not touched any of the same surfaces – this plus my intuitive model suggests that better ventilation could help significantly in these settings, and it would not cost anything and it would not impede any normal activities)
I'm also not sure how leaving windows open would interact with infections that spread by aerosol, but some places like Israel already seem to be trying this.
Ventilation, part 2
Right now the biggest bottleneck to treating coronavirus is likely shortage of ventilators and oxygen concentrators. Many people are trying to come up with ideas for solving the shortage. EndCoronavirus.Org is trying to get a team together, and is looking for doctors, engineers – and of course lawyers, to jump over the inevitable regulatory hurdles.
Meanwhile, at least according to Breitbart, existing ventilator manufacturers are just…not bothering to ramp up production yet? Does this make sense to anyone else? According to Forbes, ventilator manufacturers could quintuple capacity over the next few months, but…nobody has asked them to?…and they don't want to take the initiative until somebody asks? Economists are begging the US government to ask, and maybe to ensure that every ventilator they make will get bought no matter what the circumstances are a few months from now – if they can't, maybe private philanthropists should step in? Kudos to the UK government, which has just sent ventilator blueprints to a bunch of manufacturers and told them to get to work. But even if this comes through, how are we going to get enough skilled labor to ventilate this many people? [EDIT: As per WSJ, ventilator manufacturers are now ramping up production].
Also in medical supply news – when a hospital runs out of a critical $11,000 part and the manufacturer can't supply more, a local guy with a 3D printer prints one up for $1. Now he's being threatened with a lawsuit by the manufacturer. [EDIT: possibly not true or exaggerated, see here] This whole epidemic has been a fun adventure in "newspapers finally paying attention to what everything in health care is like all the time."
Ventilation, part 3
When doctors need to ventilate someone in an emergency and don't have time to hook them up to a real ventilator, they use manual ventilation, ie "bag and mask ventilation", a really simple technique using a $30 piece of equipment which is literally just a bag attached to a face mask. Somebody squeezes the bag in a breathing-like rhythm, sending air into the person's lungs until they're able to get on a real ventilator. It's not perfect but it saves lives.
In a New York Times article on the expected upcoming ventilator shortage, they say:
One doctor wondered if they could recruit enough volunteers to manually ventilate patients — which involves squeezing a small inflatable device by hand — indefinitely.
I know nothing about respiratory medicine, and I guess I always assumed that there were issues with bag-mask ventilation which made it unsuitable for longer than the few-minute-period it usually gets used for. If that's not true, and the limiting factor is just getting enough people to keep squeezing the little bag, then surely our civilization can come up with some sort of automatic squeezing machine, right?
[EDIT: some discussion of why this may not work here and here.]
Come summer
The smart people seem to be going back and forth on whether the coronavirus might die down in summer like a seasonal flu. The good news is that this has sparked more interest in the absolutely fascinating field of disease seasonality:
Except in the equatorial regions, respiratory syncytial virus (RSV) is a winter disease, Martinez wrote, but chickenpox favors the spring. Rotavirus peaks in December or January in the U.S. Southwest, but in April and May in the Northeast. Genital herpes surges all over the country in the spring and summer, whereas tetanus favors midsummer; gonorrhea takes off in the summer and fall, and pertussis has a higher incidence from June through October. Syphilis does well in winter in China, but typhoid fever spikes there in July. Hepatitis C peaks in winter in India but in spring or summer in Egypt, China, and Mexico. Dry seasons are linked to Guinea worm disease and Lassa fever in Nigeria and hepatitis A in Brazil.
Their explanation for why we don't know more about this:
"It's an absolute swine of a field," says Andrew Loudon, a chronobiologist at the University of Manchester. Investigating a hypothesis over several seasons can take 2 or 3 years. "Postdocs can only get one experiment done and it can be a career killer,"
As for the coronavirus itself? Unclear. The latest study says it might be seasonal, but a lot of comments on it point out continuing epidemics in tropical countries like Malaysia (currently 900 official cases). If your hometown isn't going to get warmer this summer than Kuala Lumpur is right now (95 degrees at time of writing), you may not quite be off the hook.
John Ioannidis says we need better data
I mean, of course John Ioannidis would say that, he says that about everything. But his column in Stat News is actually pretty interesting. He points out that our mortality rate statistics use diagnosed cases as a denominator, and (as mentioned above) we barely have a clue what the real-case-to-diagnosed-case ratio is. Based on his calculations, the confidence intervals for the mortality rate are so wide that it could still be lower than the average seasonal flu (he's not saying this is definitely true or even plausible, just a possibility). He calls for testing of a random sample of the population to help pin down better numbers.
Hail the Bay
I'm usually pretty harsh on Bay Area governments here. So I want to give credit where credit is due: they've reacted to the coronavirus epidemic with a level of swiftness and ferocity they usually reserve for attempts to build new housing. While New York and Seattle dither, the Bay Area (despite having fewer cases than either) has instituted a shelter-in-place order, essentially banning people from non-essential leaving the house. I think they're the only people here who are going to come off looking really good in the history books (and hint to the 2024 DNC, SF Mayor London Breed looks pretty presidential right now). Most of the people I talk to (including patients from all slices of life) are cooperating enthusiastically and feel well-taken-care-of.
I'm even willing to give California state government a little credit. For the past week, most of the organizations that usually try to thwart me have instead been working to make my job easier. The state's medical board usually puts onerous restrictions on telepsychiatry – for example, before you can prescribe a telepsych patient a controlled substance, you either have to meet them in person once or get a signed note from a doctor who has. Now they've lifted all of those and made video appointments a lot easier.
And the same is true of local businesses. I have never used the words "flexibility" and "insurance companies" in the same sentence before, but they have been positively pleasant to work with this past week as I try to navigate the difficulties of switching everybody to video appointments ASAP.
My contacts in tech mostly say the same thing about their own workplaces. Most of my rationalist friends self-isolated really early, before it was socially acceptable to do so, and their tech company employers kind of rolled their eyes but agreed to let them work from home. I know Google switched to work-from-home only long before the government mandated they do so, and I think the other big companies were also really on top of this.
Hall of shame goes to Triplebyte, which forced its employees to work from the office well into the epidemic, then fired a fifth of them without warning. The rumor is that it had planned the downsizing for a while, wanted the employees to be in the office to hear about it in person, and didn't care how much risk it had to expose the soon-to-be-ex-employees to in order to make it happen. Not cool, and I've cancelled my Triplebyte affiliate link in protest. GameStop is also getting in trouble for staying open and requiring employees to bring their own sanitary wipes. And although Tesla originally got in trouble after Elon Musk dismissed concern as dumb, Musk has since claimed he will repurpose his factories to make ventilators if needed, so I will refrain from criticizing him until I'm sure we don't all end up owing him our lives.
Short links
Chinese anti-coronavirus propaganda banners. "Visiting friends and relatives is mutual slaughter", "Everyone you encounter on the street is a wild ghost seeking to take your life." Thinking of getting a "Those who come visit you are enemies" banner for after the virus dies down, just so people know where I stand on social events.
It's not a real global disaster until hordes of ravenous wild monkeys terrorize cities.
The current death toll of the coronavirus is negative fifty thousand, although the article is out of date and it may have risen to more like negative forty thousand by now.
In the last coronavirus links post, I suggested that the guidance against wearing masks seemed like more of a Noble Lie intended to prevent hoarding than good science. A Less Wrong post gave more information and expanded the case, and now it's in The New York Times: Why Telling People They Don't Need Masks Backfired. And notice the wording! It's not newsworthy that the government deceived us, it's newsworthy that the deception didn't achieve its intended goal.
California governor Gavin Newsom responded to the coronavirus in a very California way: by shutting down all large gatherings of 250 people except Disneyland. A few days later, Disneyland closed anyway.
US: all nonessential public gatherings are banned. France: "More than 3,500 Smurf cosplayers gathered over the weekend in an attempt to break the Guinness World Record for the largest group of people dressed as Smurfs." Also: "Mayor Patrick Leclerc defended the decision to hold the event, which he said was necessary to alleviate the "ambient gloom" around the country. "We must not stop living. It was the chance to say that we are alive," he told AFP.
Police departments: criminals should do their part by not committing crimes during the coronavirus epidemic. ISIS: terrorists should avoid Europe for the duration of the epidemic.
More on how the FDA and CDC tried to thwart the Seattle study that finally discovered the coronavirus had been circulating uncaught in the city for weeks. And Pro Publica talks about how, in addition to thwarting more coronavirus tests, the FDA is forcing the CDC to waste its few tests by testing the same people twice.
Related: according to numbers I have not independently confirmed, a single billionaire is providing orders of magnitude more coronavirus tests to the US than the entire federal government so far. It's a good time to be against against billionaire philanthropy!
Our World In Data has a predictably great piece on the coronavirus, including the opportunity to track how many cases in each country on each different day. Very useful for amateur research!